The Artwork of the Month - February 2023
Nino Bertoletti
(Roma 1889 - 1971)
Pierrot, 1929
Oil on canvas, 92 x 58 cm
inv. AM 542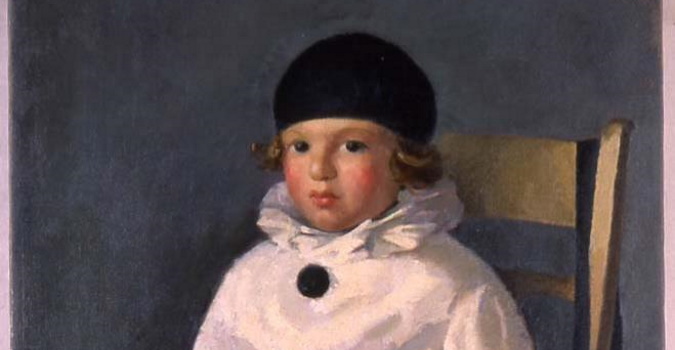 We are entering into the Carnival spirit with the #operoperadelmese from the Galleria d'Arte Moderna: Pierrot (1929) by the Roman painter Umberto Natale (Nino) Bertoletti. This painting in oil on canvas portrays a child wearing the French mask of Pierrot, in the illustration made famous - it seems - by the commedia dell'arte actor Giuseppe Giaratoni from 1673 onwards. Tradition assigns the character large white trousers and tunic, with buttons of the same material or black velvet, a black velvet cap on his head and a whitewashed face.
The child in the painting is Carlo Francesco, the painter's son, born in April 1924 and shown here in a three-quarter view on a chair from the back with a small guitar hanging from it (perhaps a reference to the painting Pierrot tocant la guitarra created in 1925 by Salvador Dalí?).
Bertoletti's painting divided the critics during the First Exhibition of the Sindacato Laziale Fascista in 1929, where the artist was a member of the executive commission and designed the rooms: the critics were enthusiastic about the elegant colours and the sobriety of the painting, while the critics emphasised "the absence of any research, as one of the most (...) out-of-tune notes".
The work displays direct knowledge of some of the artists Bertoletti had admired on his frequent journeys to Madrid and Paris, such as Goya, Courbet, Velázquez, Gericault and Renoir, who had portrayed his son Jean in a Pierrot costume (Il Pierrot bianco).
Placing a family member in the central role is not unusual in Bertoletti's oeuvre: the painter used to portray relatives and acquaintances in plein air, as can be seen in the canvases depicting his friend Giorgio de Chirico and the numerous portraits of his wife Pasquarosa Marcelli, his muse and model.
The Galleria d'Arte Moderna conserves three other works by Bertoletti, including the famous Saltimbanchi of 1933 (inv. AM 1005).
A painter and illustrator of magazines and children's books, Bertoletti was influenced in his early years by Aleardo Terzi and Umberto Bottazzi; in the 1910s he was close to the painters of the Roman Secession and lived at Villa Strohl-Fern, later approaching the Valori plastici and Novecento movements. After the Second World War, he expanded the theme of the figure and landscape.
Return to the section > The Galleria d'Arte Moderna artwork of the month