Legami e corrispondenze. Images and words through the XX century in Rome
Immagine: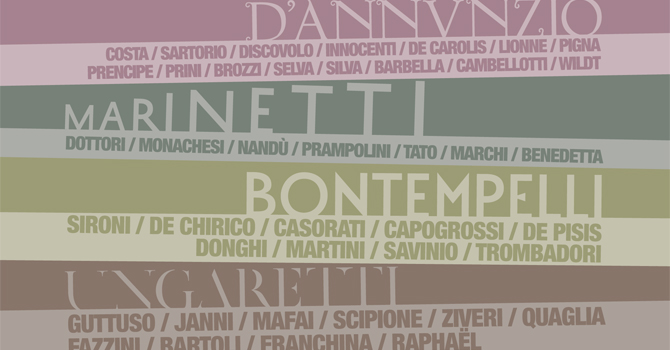 28/02/2013 - 27/04/2014
Galleria d'Arte Moderna
The artworks of the Gallery of Modern Art in Rome will offer a new and ideal reading of the correspondence between visual arts, literature and poetry in Rome, from the end of the XIX century to the 1960, when artists and writers worked together in a continuous exchange of ideas.
The exhibition aims to present to the public suggestions and ideas for a new reading of this intense and extended period, suggesting an easy journey through visual  and sound materials.
The exhbition spans on the three floors of the museum presenting approximately 100works, including paintings and sculptures - including 85 works from the permanent collection of the Gallery of Modern Art in Rome and others from the Civic Museums or private collections - which interact with some writers, presenting an intense reading of the intense relationships and interactions between visual arts, literature and poetry, developed in Rome, from the beginning of the last century until the 1960s.
Each of the six thematic sections of the exhibition is dedicated to an important Italian author of the XX century (Gabriele D'Annunzio, Filippo Tommaso Marinetti, Bontempelli, Luigi Pirandello, Giuseppe Ungaretti, Alberto Moravia), recounted through the works of art, magazines, books, and multimedia devices.
I FLOOR:
GABRIELE D'ANNUNZIO BETWEEN  SYMBOLISM AND DECADENCE
Works by: Nino Costa, Giulio Aristide Sartorio, Antonio Discovolo, Enrico Coleman, Camillo Innocenti, Adolfo De Carolis, Sigmund Lipinsky, Duilio Cambellotti, Enrico Lionne, Alessandro Pigna, Umberto Prencipe, Giovanni Prini, Renato Brozzi, Attilio Selva, Leopoldo Silva, Adolf Wildt, Costantino Barbella;
FILIPPO TOMMASO MARINETTI E AND THE FUTURISTS
Works by: Benedetta Cappa Marinetti, Gerardo Dottori, Sante Monachesi, Nandù, Enrico Prampolini, Tato, Virgilio Marchi;
MASSIMO BONTEMPELLI AND MAGICAL REALSIM
Works by: Felice Carena, Mario Sironi, Giorgio de Chirico, Mario Broglio, Felice Casorati, Gisberto Ceracchini, Carlo D'Aloisio da Vasto, Francesco Di Cocco, Antonio Donghi, Riccardo Francalancia, Roberto Melli, Alberto Savinio, Luigi Trifoglio, Francesco Trombadori, Giuseppe Capogrossi, Emanuele Cavalli, Filippo De Pisis, Arturo Martini;
II FLOOR:
LUIGI PIRANDELLO AND THE SELF IN THE MIRROR
Works by: Roberto Melli, Afro, Contardo Barbieri, Nino Bertoletti, Cesare Breveglieri, Nino Caffè, Felice Casorati, Ferruccio Ferrazzi, Guglielmo Janni;
GIUSEPPE UNGARETTI AND THE ROMAN SCHOOL
Works by: Amerigo Bartoli Natinguerra, Leonetta Cecchi Pieraccini, Renaro Guttuso, Guglielmo Janni, Mario Mafai, Scipione, Alberto Ziveri, Carlo Quaglia, Pericle Fazzini, Nino Franchina, Antonietta Raphäel Mafai;
III FLLOR
ALBERTO MORAVIA AND THE ARTSIST
Works by: Carlo Levi, Adriana Pincherle, Toti Scialoja, Corrado Cagli, Fabrizio Clerici, Tano Festa, Fabio Mauri, Franco Angeli, Mario Schifano, Lorenzo Tornabuoni, Carlo Levi, Giulio Turcato, Mario Ceroli. 
Information
Opening hours
Tuesday-Sunday: 10:00 - 18:00;
Monday: closed;
Last admission 1/2 hour before closing time.
Entrance ticket
Adults: € 6,50;
Concessions: € 5,50;
Roman Citizens only (by showing a valid ID) :
 - Adults: € 5,50;
 - Concessions: € 4,50;
Booking: +39 060608 (daily, from 9:00– 21:00).
Groups: (max 30 visitors): A booking service (without guided tour) is available for groups, for an additional fee of € 25,00.  The booking fee does not include the cost of the museum entrance tickets.
Guided tours are also available either for the museum and/or exhibition: admission tickets and booking fee are required
Schools (max 30 pupils/students): advance booking is required for the admission.
 Guided tours are available (advance booking is required).
Booking for individual visitors is available only when purchasing online tickets. If you book in advance you can skip the line by going directly to the ticket window.
Information
Infoline: +39 060608 (daily, from 9:00 to 21:00).
Type
Exhibition|Contemporary art
Other information
Promoted by: Roma Capitale, Assessorato alle Politiche Culturali e Centro Storico - Sovrintendenza Capitolina
With the contribution of:
Acea; Banche Tesoriere di Roma Capitale: BNL Gruppo BNP Paribas, UniCredit Banca di Roma, Monte dei Paschi di Siena; Acqua Claudia; Finmeccanica; Il Gioco del Lotto; Vodafone.
Organization
Zètema Progetto Cultura
With technical contributions from
Curator
Federica Pirani, Gloria Raimondi, Maria Catalano
Eventi correlati
Currently there are no ongoing activities.
There are no planned activities.
There are no archived activities.