100 VIEWS OF ROME - from the art collection of the BNL-BNP Paribas Group
Immagine: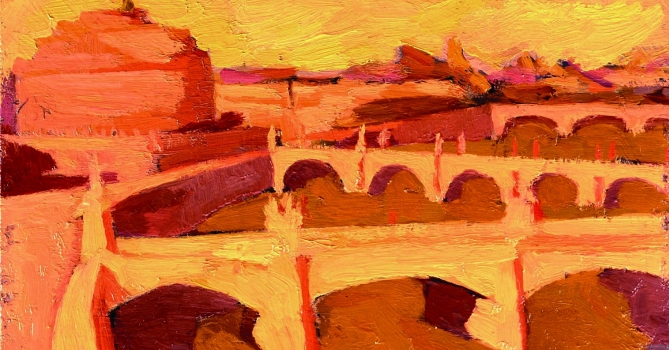 17/07 - 25/11/2012
Galleria d'Arte Moderna
On display BNL-BNP Paribas Group's "Roman collection", a famous series of postcard seized views of Rome collected since 1946 by Zavattini and commissioned to renowned artists such as De Pisis, de Chirico, Mafai, Guttuso, Savinio, Afro.
BNL - which bought the complete series in 1983 - has enriched the original nucleus with a new series of views of Rome - 54 works in the same format - commissioned in 2000 to contemporary artists.
Information
Opening hours
Tuesday-Sunday: 10.00 am - 6.00 pm;
Monday: closed;
Last admission 1/2 hour before closing time.
Entrance ticket
 Adults: € 6,50;
 Concessions: € 5,50;
Roman Citizens only (by showing a valid ID) :
 - Adults: € 5,50;
 - Concessions: € 4,50;
BOOKING:
  - Groups (max 30 visitors): guided tours are available either for the museum and/or exhibition. A booking service is available for groups (max 30 visitors) for an additional booking fee of € 25,00;
 - Schools (max 30 visitors): guided tours are available; booking is required for the admission.
Booking for individual visitors is available only when purchasing online tickets. If you book in advance you can skip the line by going directly to the ticket window.
Information
Info: tel. +39 060608 (daily, 9.00 am - 9.00 pm)
Type
Exhibition|Contemporary art
Other information
Promoted by: Roma Capitale, Assessorato alle Politiche Culturali e Centro Storico – Sovraintendenza ai Beni Culturali; BNL Gruppo BNP Paribas;
Organization: Zètema Progetto Cultura;
With the support of: Acea; Banche Tesoriere di Roma Capitale: BNL - Gruppo BNP Paribas, UniCredit Banca di Roma, Monte dei Paschi di Siena; Acqua Claudia; Finmeccanica; Il Gioco del Lotto; Vodafone.
With technical contributions from
Eventi correlati
Currently there are no ongoing activities.
There are no planned activities.