MIC card
The MIC card, at the price of €5, provides free entry to the Sistema Musei di Roma Capitale for 12 months and offers discounts to the exhibitions hosted in the exhibition spaces with separate ticketing.
Visit   miccard.roma.it, the new official website that allows you to purchase, renew or activate the MiC Card.
WHAT IT OFFERS
- free and unlimited access to the system's museums*
- free access to some of the city's archaeological and historical-artistic sites*
- free guided tours with curators, thanks to the aMICi programme
- direct access to the museum, without queues (subject to capacity and excluding the first Sunday of the month and some temporary exhibitions)
- free and direct access to special events such as Museum Night and Museums in Music
- 10% discount in museum cafeterias and bookshops (offer not valid for exhibition catalogues and cannot be combined with other current promotions)
* Complete and updated list of affiliated venues miccard.roma.it/#dove
Go to the Calendario of free appointments with the MIC card
WHO CAN USE THE MIC
The MIC card can be used by
-Adults resident or domiciled in Rome and in the Metropolitan City of Rome.
-Students at public and private universities in the territory of the Metropolitan City of Rome.
WHERE TO PURCHASE
- Online at the official website miccard.roma.it
- MIC Card app (Android or iOS
- In some Museums of the Roma Capitale System
- In Tourist Infopoints
The MIC card is also available in GIFT Card version
Map of the Civic Museums System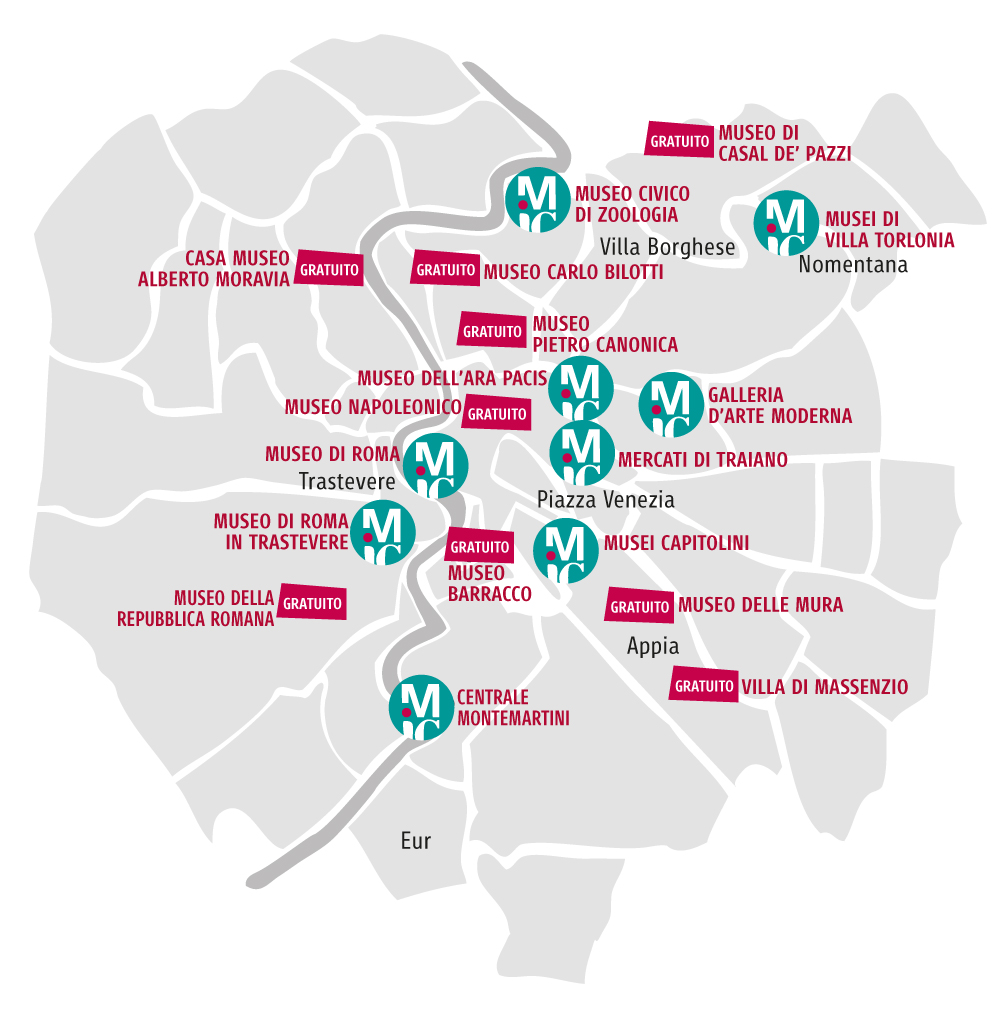 [click the map to enlarge]
Please check the FAQ and the miccard.roma.it website for all other information