Sacred and Profane Love
Between the 19th and 20th centuries, the portrayal of women showed signs of profound change, and a progressive awareness of the world of women led to the unstoppable process of emancipation from a patriarchal social and family order towards the conscious search for an identity and autonomy.
In a constantly evolving reality marked by progress, scientific research and the contradictions of and crisis in positivist thought, cultural anxieties used new narrative languages to highlight the discovery of the unconscious and its consequent repercussions in the field of sexuality and gender roles.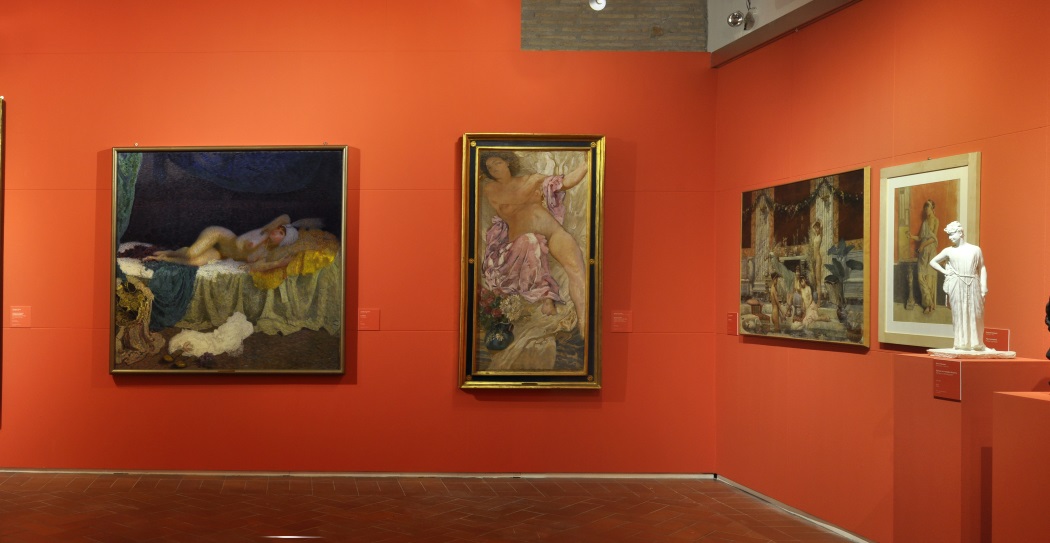 The struggle for equality and the conquest of equal rights, including voting rights - which were supported by women's movements in Europe and the United States - called into question the conventional role of women in family, cultural and political life. In literature, as in the visual arts, the female ideal of angel-like women (G.A. Sartorio, Le vergini savie e le vergini stolte (Wise Virgins and Foolish Virgins) 1890-91; G. Carosi, L'Angelo dei crisantemi (The Chrysanthemum Angel) 1921 are flanked by models and aesthetic canons born of an Italian artistic movement called Decadentism that idealized stereotypes linked to myth, legend and the divine (C. Innocenti, La sultana, (The Sultana) 1913, L. Kuzmikl Papini, Judith, 1928).
Biblical characters like Lilith, Eve, Judith and Salome, Circe and Medea from Greek mythology, Cleopatra and Armida (a fictional character created by the poet, Torquato Tasso), are just some of the archetypes that found a new incarnation in the collective imagination; the destabilising figure of a femme fatale who, whilst seen as an unscrupulous and destructive woman also somewhat ambiguously aspires to freedom and emancipation.
The femme fatale, born of male fantasy, who is both feared and desired and is the protagonist of literary, artistic, theatrical and cinematographic works, takes the form of a temptress and a vampire who feeds on the vital energy of men to the point of consuming and destroying them. Whilst she is a negative symbol in a chauvinist society, however, a femme fatale as portrayed in the cinema is seen in the positive light of a diva, the model of an independent woman who can manage her own affairs and raises her social and intellectual status by becoming a business woman and author of her own destiny. Leading actresses like Lyda Borrelli, acclaimed for her theatrical interpretation of Salome, was the first recognized diva of Italian cinema. She dressed in a modern way, loved fast cars and flying. Star of the silent screen, she appeared in roles that ranged from Elsa, in a passionate drama such as Ma l'amor mio non muore! (Love Everlasting) to that of Alba d'Oltrevita, the complex protagonist of Rapsodia Satanica (Satanic Rhapsody) whose character expressed the full range of female passions and was vital, erotic and sensual to the point that led to madness and death.
Up until the 1920s, actress- producers such as Francesca Bertini and Diana Karenn, icons known for their prima-donna behaviour along with Pina Menichelli, Leda Gys and Lina Cavalieri influenced trends in fashion and society simply by being models far removed from the subordinate roles traditionally reserved for women. Melodramas and comedies that appeared in cinemas between the 1920s and 30s - during the Fascist period - featured women in those types of roles as well as others that provided the conventional and reassuring image of angel-like women who took care of hearth and home.