Violette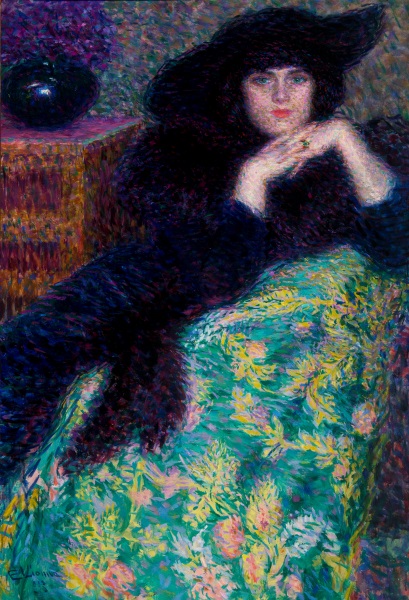 Author:
Enrico Lionne (Della Leonessa)
Collection:
Roma, Galleria d'Arte Moderna
Esempio della raffinata formula divisionista che prese piede nella Capitale incontrando il gusto della borghesia in ascesa agli inizi del Novecento, l'opera, acquistata in occasione della  I Esposizione Internazionale d'Arte della "Secessione" nel 1913, è caratterizzata da un vivace impianto cromatico che esalta il risalto della figura sui toni scuri del fondo. L'intensità espressiva del volto è sottolineata dall'elegante posa delle braccia. Ulteriore tocco di sensualità è nel titolo, Violette, come il nome della modella ritratta e le tonalità dominanti del dipinto.
The hall
With the birth of the new century, Rome continued - just as it had always done throughout the thousands of years of its history - to offer artists prestigious exhibition venues, the grandeur of its classic monuments and the allure of its historic viewpoints, and there was also something extra that characterized Ernesto Nathan's tenure, between 1907 and 1913 as the city's Mayor.
The other halls
You may also be interested in